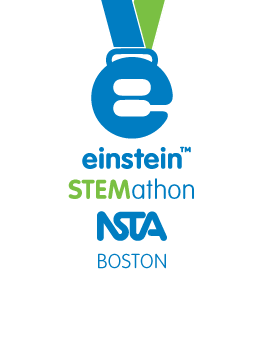 Congratulations to the winners of the
einstein™STEMathon'14
Grand Prize Winner
Amy George of Dayton Ohio for her Activity, "Our Planet is in Danger".
Amy's Activity focused on climate change and how students as "citizen-scientists" can monitor the causes of climate change and understand what they can do to solve the problem.


First Runner-Up
Robert Smith of Andover Massachusetts for his Activity "Our Planet in Danger".
Robert's Activity focused on the Greenhouse Effect - what is it and how it affects our climate.
Second Runner-Up
Lindsey McKeen Polizzotti of Malden Massachusetts for her Activity "21st Century Farming: Aquaponics".
Lindsey's Activity focused on the challenges of feeding an ever growing population while utilizing resources most efficiently.
About the STEMathon
The einstein™STEMathon saw a large group of teachers competing for prizes and pride in trying to develop the best multimedia Activity using the einstein™ Activity Maker. This year's theme was "Out Planet in Danger".
einstein

™

ActivityMaker

™
Unleash your imagination
Teachers, parents and publishers alike can use this user-friendly tool to create interactive, sensor-based activities that go beyond conducting an experiment to engage students in their science exploration.
You can check out the winning Activities as well as many others by downloading them from the einstein™ Activity Store. Contact us to request a username and password (viewable with the einstein™ World app available on Google Play).
einstein

™

Vision

™
einstein™ offers a playful and engaging science learning experience that empowers teachers and inspires young students to embark on an hands-on journey to unlock the mysteries of the world around them.
Get info for 2015
ALBERT EINSTEIN and/or EINSTEIN are trademarks or registered trademarks of The Hebrew University of Jerusalem, represented exclusively by BEN Group, Inc., and are used with permission. Official licensed merchandise. All rights reserved.